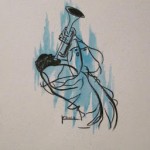 Set in London in 1979 in the gritty and entertaining world of professional musicians, DAL SEGNO features a disparate group of seven freelance musicians who play in a resident band at a club-venue. It's Friday night and the club is heaving – but the drama takes place backstage only in the band-room!
The play focuses on the personalities and predicaments of these particular men; their fears, anxieties, hopes, thrills and relationships. Special attention is given to youth and age – the respect and tension between the older and younger men. There is a variety of regional, social and racial backgrounds. The men are unique and special, not least because of their profession. They are also essentially regular everyday people.
DAL SEGNO addresses the universal themes of relationships between men in the workplace; the dissipation of youthful energy and optimism; do we love the one we're with? do we turn into our parents? do we make friends or acquaintances? Dal Segno also provides an entertaining fly-on-the-wall glimpse inside the behind-the-scenes world of the non-classical music profession. There is a dramatic twist in the final act.